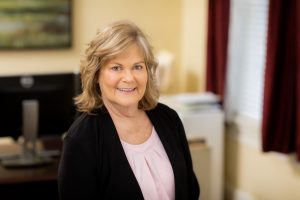 Arthur Hall Insurance is proud to announce that the Associate of Claims (AIC) designation has been conferred upon Loré L. Baker as she successfully completed all required coursework and passed the national examination for this significant designation. Lore is a dedicated Commercial Lines Claims Advocate for the agency.
Developed by the Institutes with support from the National Association of Independent Insurance Adjusters, the Associate in Claims is a nationally recognized educational program for claims. Candidates are required to complete 160 course work hours including ethics courses covering the handling of insurance claims.
Offering varied learning tracks, Loré's focus on General Liability strengthens her extensive knowledge and experience within all aspects of a claim situations. The AIC designation provides the holder with insight of how the industry, and specifically claims operations, interact within the insurance industry, the public and the legal system.
"The broad knowledge base and skill set associated with the AIC designation is one that is exceptional among claims professionals," says Arthur Hall Insurance Commercial Lines Manager, Kayce M. Alford, CPCU. "Lore's dedication and commitment to professional development within the industry is paramount to the agency's mission to proactively advocate on behalf of our insureds. Her professionalism and depth of knowledge are a strong asset to the Arthur Hall Insurance team."
With more than 30 year industry experience, Lore began her career as an insurance defense paralegal. She progressed to claims where she has held positions of adjuster, manager and claims advocate. She resides in Downingtown and is active in a number of community service organizations.
Arthur Hall Insurance is an independent insurance agent and broker providing complete risk management services and solutions to businesses, organizations, non-profits, professionals, and families. Established in 1966, they offer personalized individual service, quality and comprehensive protection, and expert knowledge with a commitment to building and maintaining long-term client relationships. Arthur Hall Insurance offices are located in West Chester, PA and Wilmington, DE. For more information about Arthur Hall Insurance, visit www.arthurhall.com.