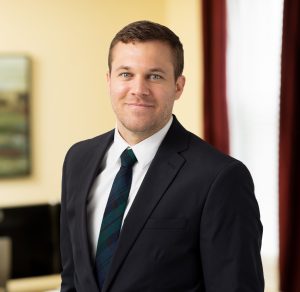 Arthur Hall Insurance welcomes Evan D. Ridington, as a Commercial Insurance Account Executive based in the West Chester, PA office. Evan's most recent experience includes success as a Personal Lines Producer with a start-up independent insurance brokerage firm and working with BMW USA to help integrate a new company-wide auto buying user experience. These positions led him to understand the importance of differentiating one's self from the competition by providing value-added resources and building lasting, trusting business relationships; all of which are tenets of the Arthur Hall Insurance mission and business model to always advocate on behalf of every client.
Agency Principal and Vice President Josh Isler, CIC says, "I am excited to welcome Evan to the Arthur Hall Insurance team. Evan works hard for his clients and puts their needs ahead of his own. We value his industry experience and professional commitment making him an outstanding addition to the Arthur Hall Insurance team of risk advisors. I am confident he will have great success in his role here, both for his clients and for the agency."
Residing in Phoenixville with his wife and three children, he is an avid mountain biker. When not riding the trails, he can be found volunteering to maintain those trails with the Friends of Wissahickon along the picturesque Wissahickon Valley Park and Creek. Evan holds a Bachelor of Science degree in Marketing from Eastern University.
Arthur Hall Insurance is an independent insurance agent and broker providing complete risk management services and solutions to businesses, organizations, non-profits, professionals, and families. Established in 1966, they offer personalized individual service, quality and comprehensive protection, and expert knowledge with a commitment to building and maintaining long-term client relationships. Arthur Hall Insurance offices are located in West Chester, PA and Wilmington, DE. For more information about Arthur Hall Insurance, visit www.arthurhall.com.