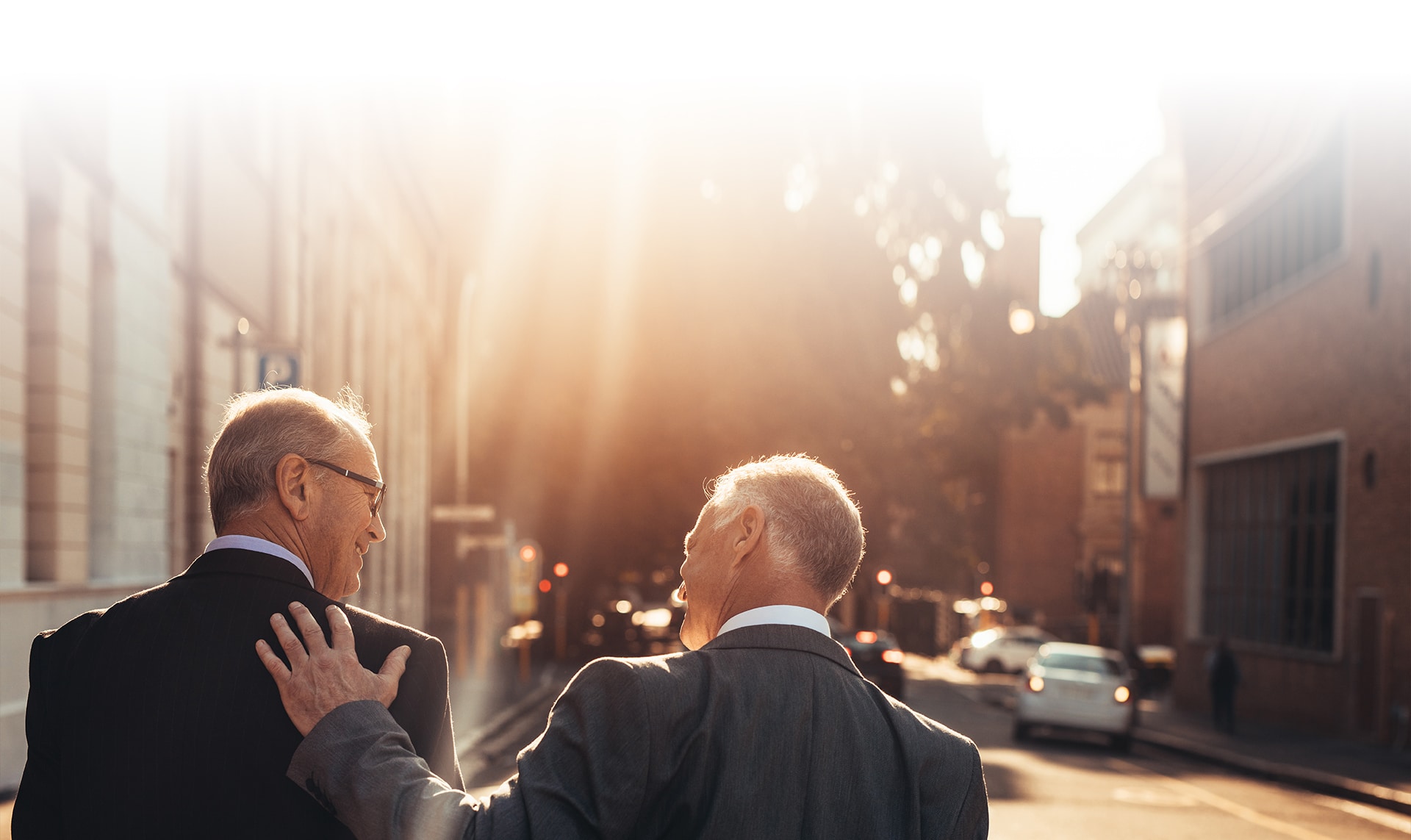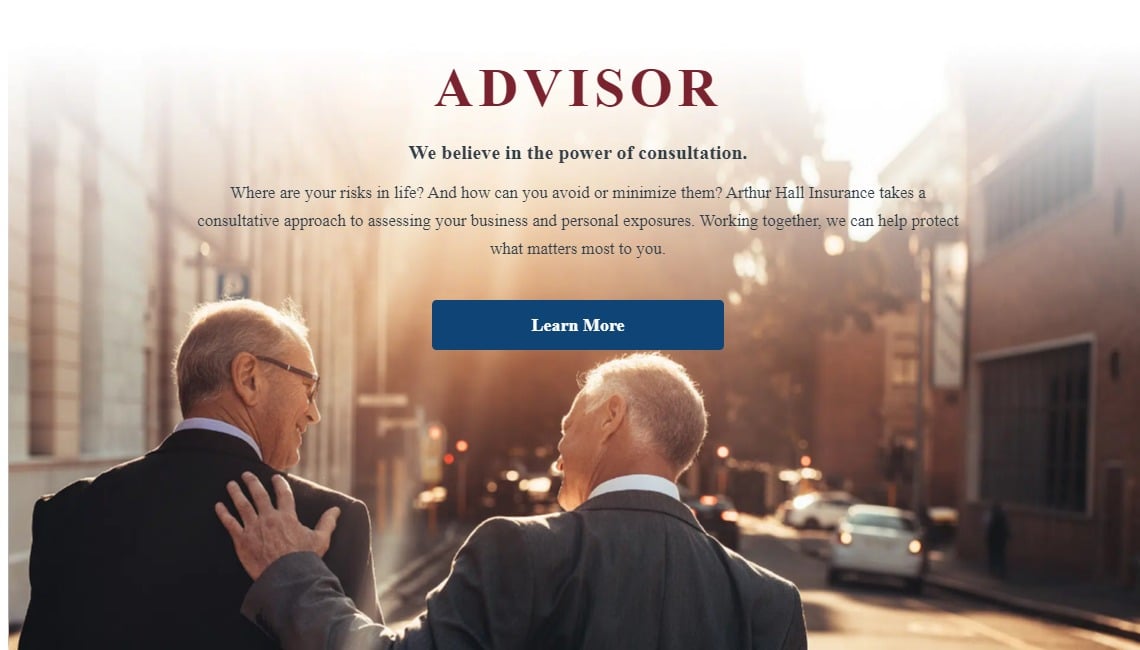 Learn More
Where are your risks in life? And how can you avoid or minimize them? Arthur Hall Insurance takes a consultative approach to assessing your business and personal exposures. Working together, we can help protect what matters most to you.
We believe in the power of consultation.
ADVISOR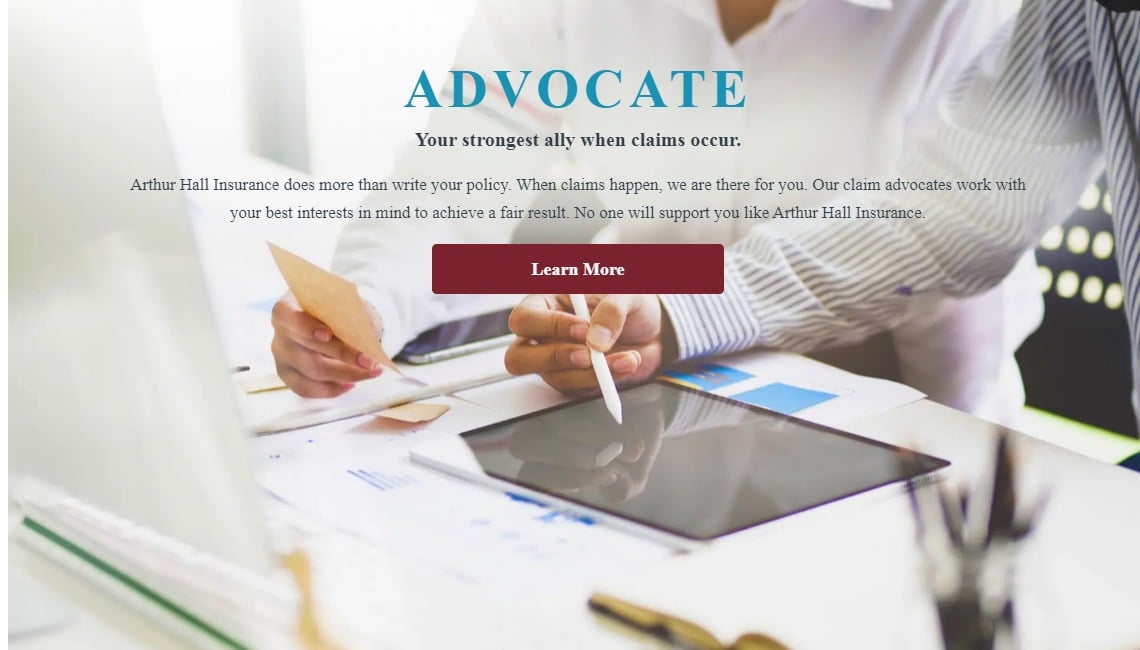 Learn More
ADVOCATE
Arthur Hall Insurance does more than write your policy. When claims happen, we are there for you. Our claim advocates work with your best interests in mind to achieve a fair result. No one will support you like Arthur Hall Insurance.
Your strongest ally when claims occur.
Learn More
Across 45 states, Arthur Hall Insurance is a highly respected insurance agent and broker, ranked among the top 25% of independent brokers nationwide. We provide solutions across business, professional and personal lines.
A full-service broker in the top 25%.
AGENT
Insurance For Protecting Your Assets
An independent Personal and Commercial Insurance firm dedicated to reining in your risk and protecting your assets.
You are a business facing growing risks and rising premiums. A professional with precious assets to safeguard. An employer seeking to protect and retain your workers. A family preparing for the uncertainties of life. Arthur Hall Insurance is a full-service insurance agent and broker committed to helping you mitigate your risks and shield what matters most in your life.
Our goal is to deliver personalized individual service, quality, and comprehensive protection with expert knowledge. Finding out what is important to you lets us create an insurance plan that is uniquely yours. This customized, consultative approach combined with our commitment to you, helps protect your accomplishments and the life you are building.
Arthur Hall Insurance takes a proactive approach to develop your personal and commercial insurance risk management programs. We are positioned to offer the broadest scope of risk management solutions and insurance programs for individuals, families, and companies of all sizes and complexities.
We'll help you protect your life's work by asking the right questions and sharing our years of experience and expertise.
Contact us so we can help you navigate a risky world and protect what matters most to you.
Contact Us