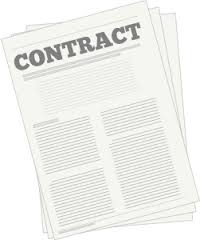 Why would an Insurance Agent ask to review our Contracts or Lease?
The Account Executives and Account Managers at Arthur Hall Insurance often get this question from our clients and prospects as we undergo our 6 step Risk Management process.
The better question would be, "Why is this the first time you're being asked this question by an insurance professional?"
Buried into contracts, leases and memorandums of understanding are all kinds of issues that if left unaddressed, can have significant implications on your insurance coverage.  These issues, while possibly out of your control, could include overly broad or one-sided indemnification provisions that may hold you responsible for someone else's negligence.
A particular focus should be on limits of coverage and broadening endorsements.  A recent review of a contract for one of our prospects held them responsible for benefits to be paid for an injured worker under the United States Longshoremen's and Harbor Workers Act or USL & H.  The USL & H provides for increased wages or indemnity payments when an injury occurs over a navigable water way and can be provided by attaching a USL & H endorsement to your Workers Compensation policy.  This particular entity was performing work on a dock near a navigable water way and clearly had the exposure but no coverage.
Another client signed a lease extension without noticing the Excess/Umbrella limit had been increased from the current limit of $1 Million up to $2 Million.  The landlord changed their terms at the advice of legal counsel due to the nature of the occupancy (child care).
It is important to have your insurance agent review your contract/leases prior to initiating them so as to avoid finding yourself in a similarly exposed position.  Often times you can negotiate altered terms prior to a contract being signed but may not have the same flexibility once the contract is in force.
While we are not attorneys and don't profess to be, our role is to evaluate the insurance provisions contained in your various contracts/leases/MOU's along with the inherent exposures for your business.  We can work with your attorney or legal counsel to provide the most advantageous terms and provide the necessary coverage extensions to alleviate the types of issues listed above.
I trust this kind of proactive service is being offered by your current insurance agency?  If not, contact one of our professionals at Arthur Hall Insurance to discuss how we may be of service to your organization.